Open House day in Barbados: St. Ann's Fort and Drill Hall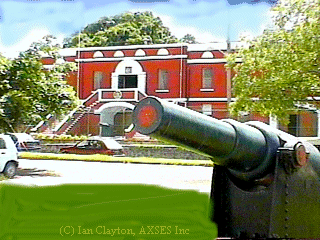 Today is
Open House
day in Barbados! This week the Barbados National Trust will be hosting you at St. Ann's Fort and Drill Hall.
This is a rare opportunity to visit two of the Garrison's historic military buildings occupied by the Barbados Defense Force. Built in 1702 during the reign of Queen Anne, the fort's picturesque upper keep invites strolling. The naval magazine beneath displays the finest known collection of seventeenth century English iron cannon. In the Drill Hall, built onto the fort's moat that was never flooded, enjoy the West India Regiment memorabilia, and view the remarkable Garrison area.
The Caribbean is still full of secrets. One recently revealed is that Barbados has the world's rarest collection of 17th century English iron cannon. Read more at
http://barbados.org/garison.htm
Enjoy open house day in Barbados!
Next week... it's Malvern Great House in St. John!