Crop Over in Barbados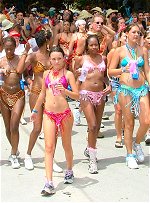 Around this time of year the thoughts of Barbadians, both at home and around the world, turn with much anticipation to Crop Over, the annual Barbados summer festival that consumes the hearts of all Bajans.
We long to start hearing the pulsing soca rhythms on the radio and the biting social commentary with its witty - and often controversial - lyrics. Mouths water at the thought of a 'pork lime' complete with barbecue pig tails and roasted pork. Ah yes.. Crop Over is nearly here!
Some years ago Crop Over didn't really start until July but these days the earlier the better! Starting in May the National Cultural Foundation takes some of Barbados' most popular soca performers and calypsonians to communities across the island to wet the appetite for another great Crop Over season!
Soon the calypso tents will have their opening nights... a chance to start picking your favourite tunes and artistes; then the art and craft exhibitions will start and the remarkable work of our locals artists will be admired by many; soon enough the most popular events - soca at the Party Monarch and Sweet Soca show, calypso at the Pic-O-De-Crop competition, food and drinks at Bridgetown Market, pure fun at Cohobblopot and finally the revellery of Grand Kadooment itself!
And then the inevitable disappointment as this years tunes fade both on the radio and in our memories. But the memories of good times with family and friends and the appreciation of another great festival will last forever and sustain us until once again its time for Crop Over in Barbados!
See
Barbados Crop Over calendar of events
.