Discover Queen's Park Barbados!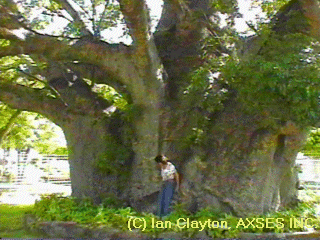 Large Baobab tree in Queens Park Barbados
If you're visiting Barbados you must make a trip to capital city of Bridgetown! This historic city is over 375 years old and elegantly combines its historic buildings and traditions with modern shopping and conveniences.
If you're visiting by cruise ship then you're in luck because Bridgetown is just about a 10 minutes stroll from the Cruise Ship Terminal.
So what should you do after having a walk through Bridgetown and doing some duty-free shopping? Well a great idea would be to continue walking east and within 2 minutes you'll arrive at historic
Queen's Park
.
The main house in Queen's Park dates back to the 1700's and was home to the general commanding the troops of the British Garrison in Barbados. Just close your eyes and imagine being in these surroundings over 200 years ago!
Today it is a national park and a wonderful place to take a rest after a day in the bustle of Bridgetown. The art gallery often has local, Caribbean and international art on display so do stop and take a look.
Also look out for the solar-powered house, a wonderful example of how to use this natural resource to power our everyday household needs.
Another special sight in Queens Park is the large Baobab tree - some say it's a thousand years old!
See more information on
Queen's Park Barbados
...